The Cicadas Have Arrived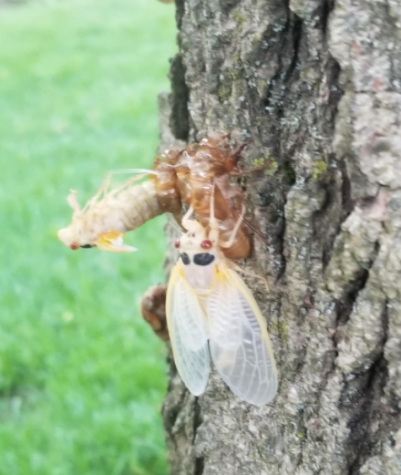 After seventeen years of hiding deep underground, cicadas are expected to invade the east side of the United States. The 2021 cicadas are known as Brood X, and will be the biggest out of the fifteen known periodical cicada broods (National Geographic). Coincidently, the DMV region is where most of the cicadas will emerge.
Every seventeen years, cicadas reach adulthood and come out of the ground just to mate. Similar to how alpha males in America will flex their muscles, the male cicadas will rub their ribs together to attract females of the species. Billions of Cicadas are expected to arrive, largely affecting fifteen states: Delaware, Georgia, Illinois, Indiana, Kentucky, Maryland, Michigan, New Jersey, New York, North Carolina, Ohio, Pennsylvania, Tennessee, Virginia, and West Virginia, as well as Washington D.C. (USA Today).
When will we start seeing cicadas in our area? It all depends on soil temperature. When the soil temperature reaches 65 degrees, cicadas will start to emerge. This usually happens on the first or second day when the temperature is in the low 80s. The cicadas have a lifespan of only 4-6 weeks. As a result, most cicadas will die off by late june and early july (USA Today).
We will start seeing swarms of cicadas in late May and June in Virginia. We should expect cicadas to "rain" over our houses. It is possible that cicadas will damage plants and outside furniture. Cicadas can also enter small openings in your house. Be on the lookout for cicadas, and enjoy them while they last! (USA Today)
About the Contributor
Ian P., Columnist
Class of 2025: Ian chose to be a columnist for the school newspaper. His beat will focus on Travel and writing about unique places. Although these interests...