Spicy Brown Cinnamon Cake: Perfect for Fall!
Here's the perfect brown sugar cinnamon cake for the autumn season! If you're unsure of your baking talent, then don't worry! This recipe is suitable for people of all skill levels, and I've provided some small tips to help you along the way.
Substitutions:   
Whole Milk:

Substitutions for whole milk include sour cream, milk with any fat percentage (preferably not fat free milk), or any plant-based milk for those who are vegan or have a lactose intolerance. Buttermilk is also a good alternative. I've tested this recipe twice, once using whole milk and once using 2% milk, and both turned out great.

Dark Brown Sugar:

Light brown sugar could be used as a substitution for dark brown sugar in the cake, however I prefer using dark brown sugar because the flavor is much more rich.
All Purpose Flour:

For those with a gluten allergy any gluten-free flour such as almond meal and coconut flour are fine substitutions. Cake flour can also be used. I recommend all purpose flour, however, due to the success I've had with it through baking this cake. 
Vegetable Oil:

Any flavorless oil can be used for this recipe such as canola oil. Refrain from using oils such as olive oil as the flavor of the oil can clash with the flavor of the cake.
Eggs:

Vegan substitutions such as flaxseed eggs or applesauce can be used. If ¼ cup applesauce is used, add an extra ½ teaspoon of baking powder to the ingredients
The Process
Before you start anything make sure all of your utensils and bowls are clean before preparing your cakes! You don't want any germs or weird flavors making your cake taste odd. This cake takes a surprisingly short amount of time to bake. I've baked cake a couple times and each time it takes two to four hours for the entire process. This mini brown sugar cake only took about an hour and a half to prepare, bake, and frost! This is great for people who want to bake but don't want to spend their entire weekend making one cake.
This cake can be made in three 4-inch cake molds or two 6-inch cake molds. It truly is a mini cake! I found these adorable silicon molds to bake this cake but you can use any pans you may have or find. Another alternative is to bake one large sheet cake and use a 4-inch circular cookie cutter to create circular cakes. Be aware that you will have excess cake scraps if you use the sheet cake method (which is not a problem, because it's perfect to be eaten!). 
Make sure you sift your dry ingredients (flour, baking soda, and salt) before mixing in your wet ingredients to ensure you have no chunks of flour in your batter. When incorporating the butter, make sure that the mixture has a sand-like consistency and that there are no chunks of butter present in the mixture. If large chunks remain in the batter after this step it will be difficult to incorporate once the wet ingredients are added. Your batter should look smooth, without clumps, once all the ingredients are mixed together.
Make sure you evenly divide your cakes into the cake pans. It may look like a lot of batter for one pan, but these cakes don't rise as much as regular eight or nine inch ones so don't be alarmed. Place them into the oven for the designated time. While it's baking you can work on the buttercream!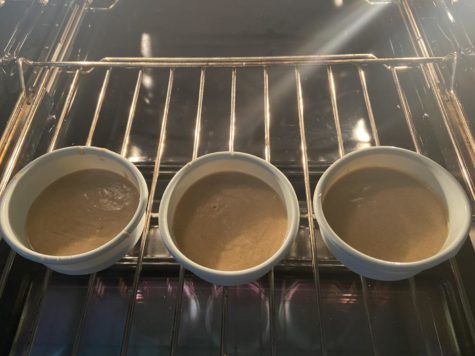 The cinnamon buttercream paired with the brown sugar cake is delightful, but this cake can be eaten without the buttercream as well. Make sure you whip the butter and salt until it is light and fluffy. Make sure you lower the speed of the electric mixer before adding in the powdered sugar because you don't want to have clouds of sugar form. Once whipped together, add the vanilla and cinnamon and you have a great frosting to use on this cake!
The cakes are done when a toothpick is inserted and no batter comes out with it. They will be a slight golden brown color. Wait for them to cool for about fifteen minutes before removing them from the pans. Wait until they completely cool before sticking them in the freezer for about 15 minutes. Putting them in the freezer makes them much easier to frost.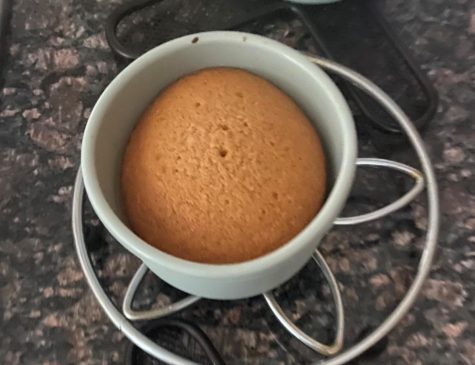 After pulling them out of the freezer, cut each layer in half. The layers are relatively thick so cutting them ensures that your cake is sturdy and doesn't slide around. When frosting your cake it would be beneficial to have a bench scraper or an offset spatula, however if you don't own one, you can use a knife with a flat or blunt edge. It would also be good to have a cake or turn table because it makes the frosting much easier for those who don't have a steady hand.
Make sure you make a crumb coat and freeze the cake for a few minutes after to ensure that all the crumbs are caught and won't ruin the rest of the frosting process. Make one or two layers of frosting and put it in the freezer or fridge to be chilled before it's ready to eat.
You've successfully made this delicious brown sugar cinnamon cake! I hope you have success in making this simple yet flavorful dessert, perfect for the fall season.
Recipe: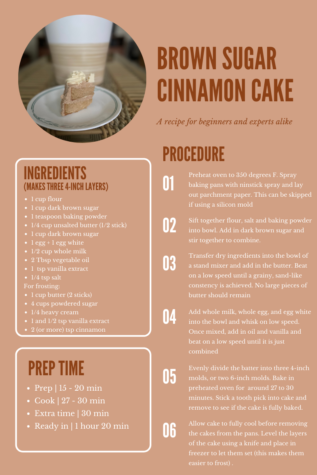 About the Contributor
Anjali J., Advertising Director
Class of 2023: Anjali is the Advertising Director for the BIM Bulletin. She is skilled in graphic design and has made many flyers that have been posted...